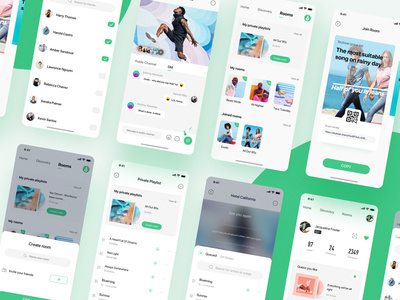 See full project on Behance!
Skybeat is a music streaming platform. Unlike many typical music apps, Skybeat focuses on building a social component, where users can connect with like-minded individuals or favorite artists. We see a significant need for a platform that brings people together, encourage users to share ideas, and explore undiscovered areas about themselves. In Skybeat, members can catch any song using the listening feature, view lyrics while listening, and find curated albums tailored to them. But our most exciting feature is called "Rooms," where people can make their playlists public - similar to creating a chat room. By scanning a QR code or using the shareable link, anyone can join the room, start a conversation with people they've never met before, and create a playlist together. Additionally, verified artists can customize their room and make a real human connection with the fans! We believe Skybeat will have higher engagement and retention rates compared to other music streaming apps.
Follow us on Dribbble and Behance!